Not many people have the time available to keep up to date with every Victorian jump-out and every NSW trial. That's where I come in. I am constantly looking for those horses that are hidden amongst the pack, under a hold by the jockey or given a quiet time as a maiden horse with other gallopers that have already proven better than maiden grade.
When you join this website, you get DAILY TIPS/PREVIEWS which include jump-out & Trial black bookers. These are posted in the PPA APP. You also get access to the STAKING BETS. Staking bets are sent via PRO PUNTER ALERT APP. If you don't receive log in details when signing up please get in touch via email or twitter. You can send me a message through the Get In Touch page. PLEASE GAMBLE RESPONSIBLY Gambler's Help, Victoria, Australia (gamblershelp.com.au)
Ben's Racing Tips Spreadsheet, results recorded by a member, fixed odds staking unless suggested otherwise
1 stake = $100 (05/11/2023)
BRT spreadsheet and graph (STAKING BETS RESULTS) is recorded with the recommended staking and odds detailed at the time of being sent to members. This is a combination of both fixed odds and tote, outlined in the tips notification. For further simplicity, from April 2023 onwards – all results will be recorded at the third best price available at the time tips are sent, unless a tote bet is advised. Any issues please email myself or PPA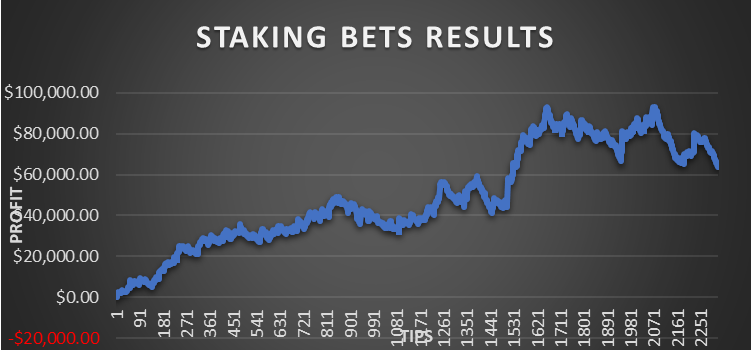 If you'd like to view tips on the website or get notification of tips through the Pro Punter Alert App consider a membership for $50 a month!